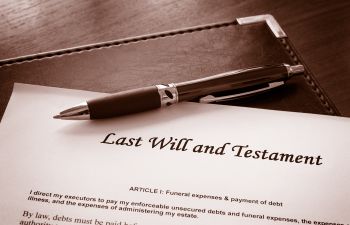 When thinking about creating a will, many people believe that the process is both complex and stressful. While it is true that there are several potential issues that need addressed, the legal process is usually a lot simpler than expected.
At Stephen Hagler, LLC, we can help you create a will that expressly outlines your wishes. Dying is not something that we generally want to think about. However, when you have an estate and dependents to consider, a last will and testament can ease the pain of loved ones when you pass.
Distribution of Assets
A last will and testament will typically deal with assets that the testator wishes to leave to beneficiaries. It is possible to leave assets to a spouse, children, relatives, friends or charities. Making sure that your instructions for the distribution of assets are honored is important to most individuals who decide to create a will.
Even when you create an explicit plan for how assets are distributed, disputes can arise after your death. If this is a concern for you, seeking advice and representation from Stephen Hagler, LLC is an option. We can handle legal documents and processes including simple wills, guardianships, estate administration and advanced medical directives.
Estate Management
If you are unsure about the legal processes surrounding estate management, such as creating a last will and testament, Stephen Hagler, LLC is a compassionate lawyer in Georgia. We are dedicated to helping our clients smoothly negotiate the processes involved in distributing financial and physical assets.
Stress and anxiety about the prospect of dying and the subsequent distribution of assets are valid feelings. When you know that creating an estate plan is in the best interests of those you love, seeking legal support may be the most appropriate way forward.
Guardianship Concerns
Looking after another person, whether they are a family member or friend in your care, is often a full-time job. If you have concerns about continued support after you die, guardianship may be a direction worth pursuing.
No matter your situation, Stephen Hagler, LLC can help you with matters relating to estate management, probate laws, wills and much more. Call today for a consultation.
Posted on behalf of Stephen H. Hagler, LLC