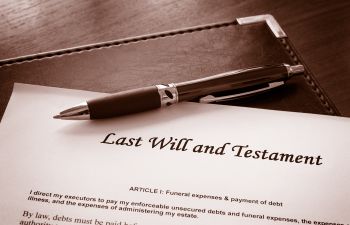 For many people, the unfortunate truth is, putting off creating a will is not an option. If you are getting on in years, or suffering from a terminal illness, now is the time to think about how your assets will be distributed after you are gone.
The process is not as complicated as you may think, but it does help to consult with an experienced estate planning lawyer. While there are costs associated with creating a will, with the help of an attorney, fees are reasonable. You will also have the peace-of-mind of knowing that the document is legally binding and carefully preserved.
Will Beneficiaries
The will of the deceased outlines the individuals who will receive assets, as well as naming who is given responsibility for minor children. In the case of minor children, the nominated guardian will also control any assets gifted to those children until they reach the age of 18.
Each individual has unique needs when it comes to preparing a will. However, that does not mean that the process has to become overly complicated. An experienced attorney can guide you through your options based on how you wish to distribute your assets.
Other Considerations
When you die, you may wish to put other provisions in place for loved ones. A wills and probate attorney can provide help in preparing all the necessary documents to ensure your wishes are honored. We have experience in matters relating to estate administration, advanced medical directives, support for a spouse and more.
If there is no will in place, a will is disputed or there is a suspicion of fraud, Stephen Hagler, LLC can provide representation. Although these issues are relatively uncommon, having an experienced attorney by your side in the event of issues with a will is recommended.
No matter how you wish to distribute assets after you have passed, Stephen Hagler, LLC will provide assistance. As a lawyer with experience in the preparation of wills, guardianships and trusts since 1991, he will handle the process with understanding and compassion.
Call our offices today if you have questions or would like to book an appointment with Stephen Hagler, LLC.
Posted on behalf of Stephen H. Hagler, LLC