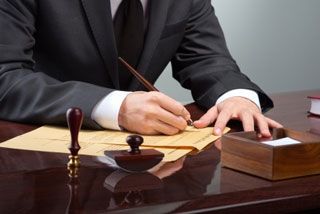 When planning your estate, there are a range of issues that need addressed in a timely fashion. Choosing an executor or administrator is one of the primary concerns to consider. Worries over disputes between beneficiaries or those who feel they were wrongly left out of a will can be avoided with careful planning and implementation.
The first step in planning the distribution of your assets could involve consulting with an experienced attorney. Every estate is different, as are the needs of the testator, or individual who owns the assets in life. If you wish to create a will, many of the problems associated with dying "intestate" (without a will) may be avoidable.
Administration of Assets
The collection, inventory and appraisal of all assets that are subject to probate are an important part of an executor or administrator. Other responsibilities may include payment of taxes, payments to creditors, funeral expenses and distribution of assets according to a will or Georgia state laws.
In many cases, these responsibilities take a considerable amount of time and commitment. Working with a probate attorney can help streamline the process. If you have concerns about the administration of your estate after death, it is possible to ensure that assets are passed on your preferred beneficiaries. A legally binding will should outline your wishes clearly and without ambiguity.
Stephen Hagler, LLC
At Stephen Hagler, LLC, we understand the emotional impact of creating a will. To prevent your estate from becoming subject to Georgia state laws, you can benefit from our experience in estate administration. We are committed to providing compassionate representation and support throughout the process.
We have been assisting families like yours since 1991 with wills, estate planning and probate planning. Call the offices of Stephen Hagler, LLC today to learn more about probating or administering an estate in Georgia.
Posted on behalf of Stephen H. Hagler, LLC