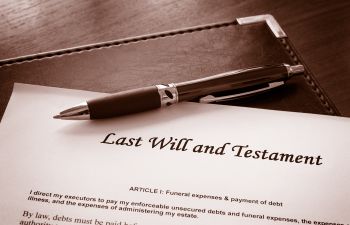 As a legal document, a last will and testament is typically uncomplicated in design and intention. This alone can lead to attempts by an unscrupulous person or persons to enforce a fraudulent or manipulated will. There are several common signs that may indicate that the document is fraudulent.
An experienced wills and probate lawyer can help you create a will or determine if an existing document is legally sound. These checks and balances will help ensure that any disputes surrounding the provision or execution of a will are legitimate.
Forged Last Will & Testament
The clearest case of fraud is when a person or persons create a document, with forged signatures included, on behalf of a testator (person who created the will) without the latter's permission. This is usually an attempt to grant oneself, another individual or a group an inheritance to which they are not entitled.
Forged Signatures
Even if the content of a will is legitimate, the forging of a testator or a witness is fraudulent. It doesn't matter if the document remains as written other than the addition of a signature. Legally, the document is not legally binding unless the required signatures are completed by the named individuals.
Undue Influence
Undue influence can occur if a testator is coerced or otherwise put under pressure to change a last will and testament. An example of undue influence might include a child pressuring a parent into making him the sole beneficiary of an estate. These scenarios are difficult to contest in court as the person(s) raising a dispute must prove that undue influence was used to override the genuine wishes of the testator.
If you would like to discuss the creation and execution of a legally binding will in Augusta, reach out to Stephen Hagler, LLC for affordable services today.
Posted on behalf of Stephen H. Hagler, LLC