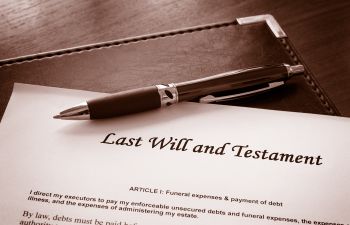 The COVID-19 pandemic has impacted virtually every part of our lives. Many unprecedented changes have caused us to lose jobs, change careers, alter family obligations and more. Some of these changes have had long-term impacts on how we live and our financial outlook. Updating your will in light if COVID-19 changes is something many overlook.
Why Make Changes to Your Will?
Any change in circumstances will impact your future and should be reflected in your will. A job loss can impact contributions for retirement, how you manage any investments or property and your plans for later in life. Some families have parted ways under the strains placed on their relationship by COVID-19. Others have met a new life partner and began families for the first time.
Your will should reflect these and other life changes. You need to sit down with an attorney to discuss changes in beneficiaries, bequests and other details that may have changed because of new circumstances. Even if you believe certain changes are only temporary, you should update your will to reflect your current wishes and circumstances. Sudden events can happen that can keep you from making the changes you desire, and the old will stands as written.
We Can Help with Updating Your Will
Stephen H. Hagler, Attorney at Law, can provide seasoned, knowledgeable advice and assistance when you need help updating your will. Even if you are unsure about making changes, a conversation with Stephen Hagler can provide the necessary guidance to help you make the best decisions for your future, and for that of your loved ones.
With all the upheaval that continues to occur and how we have witnessed unforeseen events rapidly take place, prudence demands that we keep our affairs in order. Stephen H. Hagler, LLC is the Augusta-area professional in wills and probate law you can trust for sound, trustworthy advice and assistance. Call today to schedule a confidential consultation about updating your will.
Posted on behalf of Stephen H. Hagler, LLC