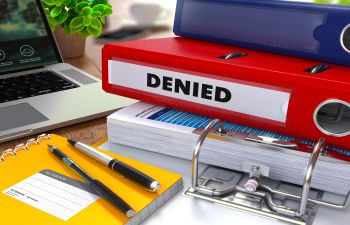 If you have been in the process of applying for State Disability or Social Security Disability Insurance and have been denied, there is help. You can enter an appeal process with the help of an attorney.  The right law firm can help put your claim back on track. They can help explain what the requirements are for SSDI eligibility or if your medical condition meets eligibility.
Request for Reconsideration
The first step in the Appeal Process is called a Request for Reconsideration. This is the next step after an initial denial. It must be filed within sixty days of being denied. The reality is that most requests for reconsideration are denied, meaning requests for reconsideration end up being decided by an administrative law judge, or ALJ, at the hearing level.
Request for a Hearing
You can request a hearing before an administrative law judge if your request for reconsideration is denied. You must submit this request within sixty days of being denied your request for reconsideration. Most cases that are ultimately approved are approved at this hearing level.
The Appeals Council
A claim might be denied by the administrative law judge at the hearing level, in which case you can appeal the denial to the Appeals Council, or AC. You must make this request within sixty days of your denial, as with the previous request. The AC may decide not to review your claim. Upon reviewing your claim, the AC may find that the ALJ made a mistake and grant your benefits accordingly, or the AC may send your claim back to the ALJ for re-review.
The Federal Appeal
There are very few claims that reach this point in the appeals process. For federal appeals, the claimant must explain why the prior decisions in your case were wrong in a brief, detailed way. The federal brief is a complex document that must comply with several complex rules. Thus, having a disability attorney who can represent you in federal court is especially helpful during this stage.
Reopening a Previous Claim
If you are denied benefits and decide not to appeal or if the deadline for appeal passes, then your case will be closed. However, if you file another claim supporting the original one, you may be able to have the case reopened.
Call Stephen Hagler LLC, Attorney at Law for a full consultation if you have been denied SSDI benefits. Our office will discuss your medical condition and potential disability benefits. We can help get you answers to your questions about Social Security Disability Benefits.
Posted on behalf of Stephen H. Hagler, LLC