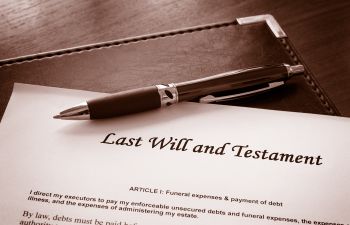 As far as legal documents go, a last will and testament is a straightforward document. As long as your assets and estate are managed properly, issues shouldn't arise in respect to your wishes. However, there are some instances which may make a will legally invalid.
If you have any concerns about the validity of your will, the offices of Stephen Hagler LLC can provide support and services. We are here to guide you through the process and help with any hurdles along the way.
Testator Age
In the State of Georgia, a testator (person who makes a will) must be 14 years of age or older. As with all laws, this age limit is subject to change, so it is important to check the time at which the document was created or amended.
Criminal Convictions
The right to vote for felons is constantly the subject of debate. However, individuals who have been convicted of a crime are not deprived of the power to make a will. In fact, any person of sound mind who is of legal age is able to create a last will and testament.
Testamentary Capacity
Testamentary capacity means that an individual has mental and emotional capacity to make a will. Some of the issues that may arise in disputes related to testamentary capacity include senility, dementia and insanity.
Audio or Video Wills
In movies, audio and video wills are a great way to set the scene and put a plot in motion. Under Georgia law, this format is not legally recognized; a will must be typed or written. It is also important to ensure that two witnesses physically sign a legally valid will.
Ex-Spouse Beneficiary
You may believe that once a spouse is named in a will, he or she will remain a beneficiary so long as the document is not amended. However, this largely depends on the legal language used. For instance, if your divorce or a marriage is deemed illegal, Georgia law will not recognize the language used in the original will.
To learn more about the potential issues you may face when creating a will, call the offices of Stephen Hagler LLC today.
Posted on behalf of Stephen H. Hagler, LLC