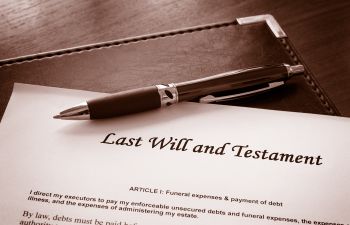 Creating a will is an important step in ensuring that your estate is managed in accordance with your wishes when you have passed away. There are several essential steps when creating a last will and testament. However, the finer details will differ from person to person.
Choosing an Executor
The executor of a will has many responsibilities, so choosing the right individual is paramount. Before naming an executor, you should have a conversation with the preferred individual to ensure he or she is able and willing to fulfill the role. In many cases, it is necessary to change an executor when he or she is no longer able to act in this capacity.
Providing for Children
If you are creating a will for the benefit of your children, guardianship is the main element. However, you can assign responsibility in different ways. Physical and financial needs may depend on the age of the children or if there is a surviving parent. Any provisions should be clearly outlined and associated with individual children to help avoid disputes.
Including Assets
Our course, assets will play a critical role when you are creating a will. All assets should be listed, with explicit instructions for distribution. It is standard practice to include "What-if?" provisions in a will, so that assets may be distributed if the original named beneficiary is no longer able to inherit. If you acquire further assets before the will is executed, make sure to update the document accordingly.
Taxes, Debts, & Financial Considerations
It is not enough to simply list and distribute assets when creating a will. You should account for any debts that could impact the inheritance that your beneficiaries receive. You can work with an accountant to assess the value of your estate; however, a probate lawyer is better positioned to help you create a will.
The reality is that while many people may consider a will a simple document, there are numerous elements you will need to include. If you are creating a will and need advice and guidance, reach out the law office of Stephen Hagler today.
Posted on behalf of Stephen H. Hagler, LLC