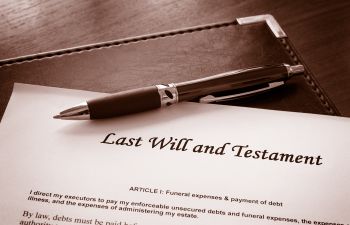 A will is a legally binding document, which often makes people think that creating a will is an expensive undertaking. Another misconception about creating a will is that the process is overly complex and causes more issues than it resolves. However, the process is both straightforward and affordable in the vast majority of cases.
When you have assets and know exactly how you want them distributed upon your death, it makes sense to create a will to that effect. Where most people run into issues is creating a will, but then, locking it away where nobody knows the document exists.
If you are considering creating a will, it helps to consult with an experienced attorney who can answer any questions related to preparation and execution of your wishes. You want to know that your loved ones are left with straightforward instructions on how you want assets divided. Even if you do not own anything of financial value, a will can help avoid unnecessary arguments over treasured memories.
Hiring a Probate Attorney
A probate attorney can help you create a will and ensure that it is executed according to your last wishes. You can rest easy, knowing that your spouse and/or children are looked after when you are no longer here to take care of them directly. The cost of creating a will depends on the size and complexity of your estate. However, the benefits of working with a compassionate and knowledgeable probate attorney are invaluable.
At the law office of Stephen H. Hagler, LLC, we can help you create a will that is tailored to your specific needs. We understand that the thought of planning events after your own death can be daunting. Our goal is to guide you throughout the process of safeguarding the future for your family. Call our office in Augusta, Georgia today for a free consultation.
Posted on behalf of Stephen H. Hagler, LLC