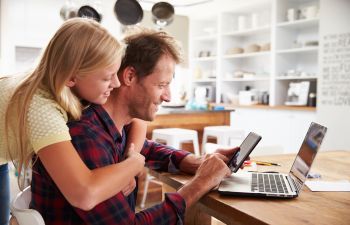 During a divorce, emotions are high. It can be easy to find yourself in an uphill battle where child custody is concerned. Mediation can protect your custody rights without ever having to step inside a courtroom, bringing stability to you and your children.
What is Mediation?
Mediation is a process that seeks to come to a resolution during the dissolution of a marriage. Mediation is especially beneficial if children are involved, and can be an excellent way to ensure children are central in any custody arrangement. During mediation, both parties work through a mediator, an individual who is trained in dispute resolution. The mediator can assist in drafting a parenting plan, and facilitate fruitful discussions aimed at providing the healthiest outcomes for both parties. Mediation is conducted in a comfortable office space, which helps both parties feel more relaxed and can foster a more collaborative meeting.
The Particulars of Mediation
The mediator will help the parties draft a parenting plan that can include:
Timeshare schedule, including joint or primary custody and visitation schedules

Division of healthcare costs and insurance coverage

Holiday schedules

Childcare agreements/division of childcare costs

How medical visits and school functions will be handled to accommodate the involvement of both parents
This list is by no means comprehensive. A mediation agreement can include items that are unique to each family.
If Mediation Fails
In some cases, the agreement made in mediation will not be upheld by one of the parents involved. If this occurs, it is important to ensure you have the support of a legal professional who can help you resolve the issue. Often, it is possible to revisit the mediation agreement to see if any of the previously agreed-upon points need to be revised. If both parties agree to the revision, the new mediation agreement can be followed without the need for court intervention.
You may find yourself in a situation where your former spouse is refusing to follow the mediation agreement at all, and will not agree to further mediation. In this case, it may be necessary to involve the court. If you are in need of assistance with child custody, Stephen Hagler and his team are here to help. Contact us today to schedule a consultation.
Posted on behalf of Stephen H. Hagler, LLC