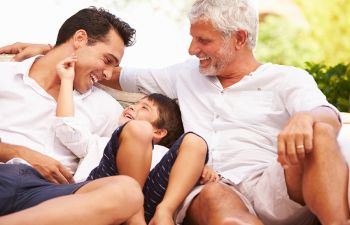 Divorce is a difficult time to face, but when children are involved, the situation is even more daunting. The well-being and care of children when the parents' relationship dissolves becomes the most important issue to discuss. Sometimes, in the demands of the divorce proceedings, the rights of grandparents to visit their grandchildren can get lost in the shuffle. What rights do grandparents have when it comes to visitation?
The Importance of Grandparents
The role grandparents play in the lives of their grandchildren goes far beyond spoiling them and giving gifts. The lives of grandchildren and grandparents alike are enriched by their relationship. Studies show that kids who grow up with involved grandparents have a decreased chance of being depressed as adults. Life expectancy for grandparents who are involved with their grandchildren goes up. It's a win-win situation for all involved.
Grandparent Visitation
According to Georgia law, grandparents have the right to file for visitation with grandchildren in the event of divorce of the parents. The Grandparents Visitation Statute allows for grandparents to petition for visitation rights if the grandparents can establish that "the health or welfare of the child would be harmed unless such visitation is granted." Grandparents can intervene in ongoing court actions including:
Custody of the grandchild
Divorce between parents of the grandchild
Termination of rights of their grandchild's parent
Visitation rights of the grandchild
Adoption of the grandchild by a blood relative or parent
The dissolution of a parental relationship always comes with heartbreak for every family member involved. The relationship that a grandchild has with grandparents can offer comfort and stability through this difficult time. In the event that the parents are estranged from the grandparents, legal action may need to be taken to continue visitation. If you are a grandparent and feel that your rights to visitation with your grandchildren are being abused, contact Stephen H. Hagler, LLC to schedule a consultation. Our team has the experience to guide you through all aspects of your visitation rights. Call us at 706-860-9060 or fill out a contact form. We look forward to hearing from you.
Posted on behalf of Stephen H. Hagler, LLC